OC
A modern website to match Oklahoma Christian University's new brand identity.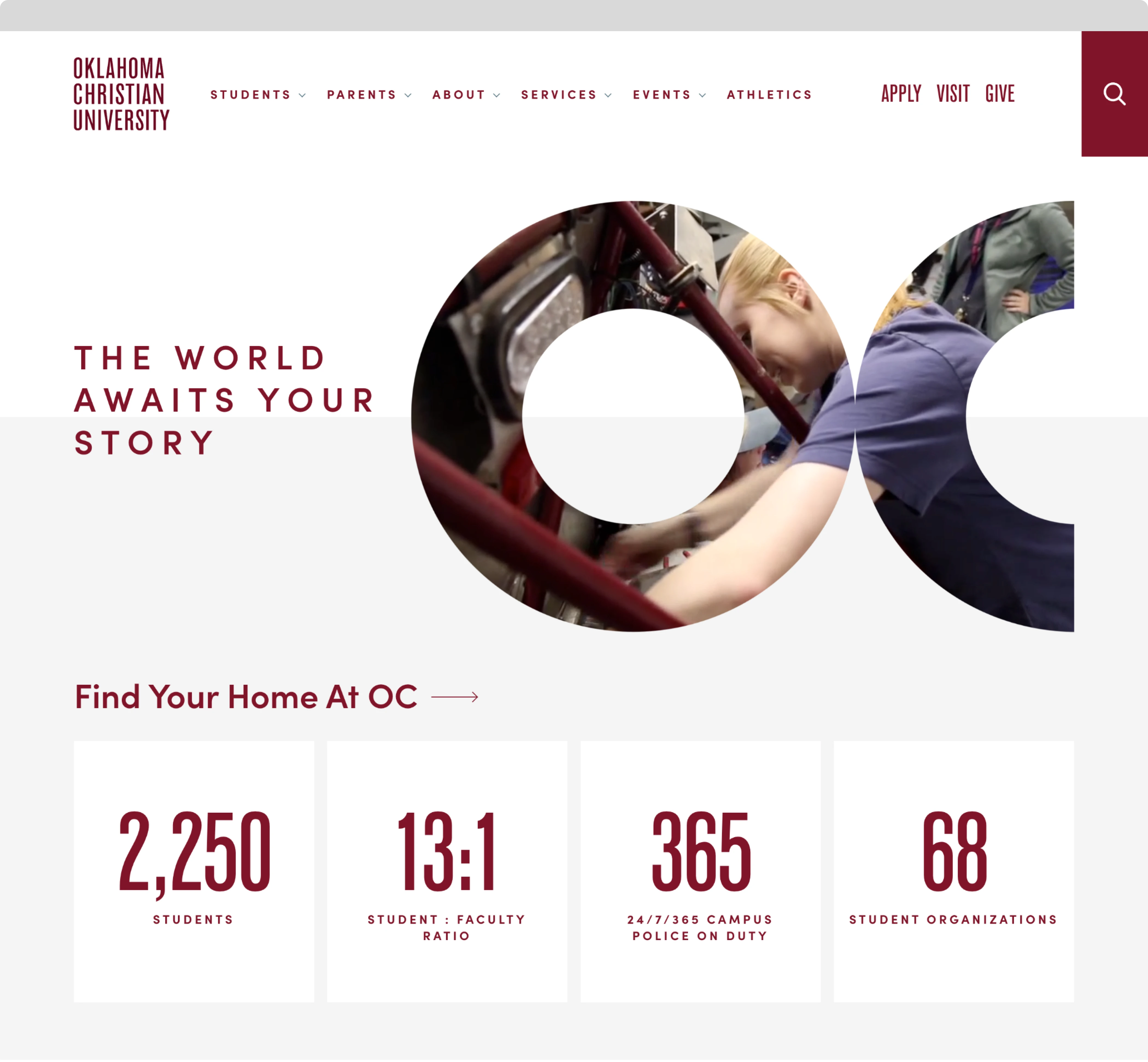 The situation
Based out of Oklahoma City, Oklahoma Christian University is a private university, offering both undergraduate and graduate degrees to 2,200 students. OC approached one of our design partners, Switch, for a rebranding exercise, which included carrying their new brand standards to their online presence. Good Work was brought on by Switch as the development partner for OC's marketing website.
After completing the discovery process a firm delivery date was established; however, a few unexpected delays, coupled with complex design and functionality requirements, postponed the website design approval later than expected. As a team that is always up for creative strategies, we worked with the client to prioritize sections of the website into a three-phased approach, allowing us to launch the most important aspects of the website on the original delivery date.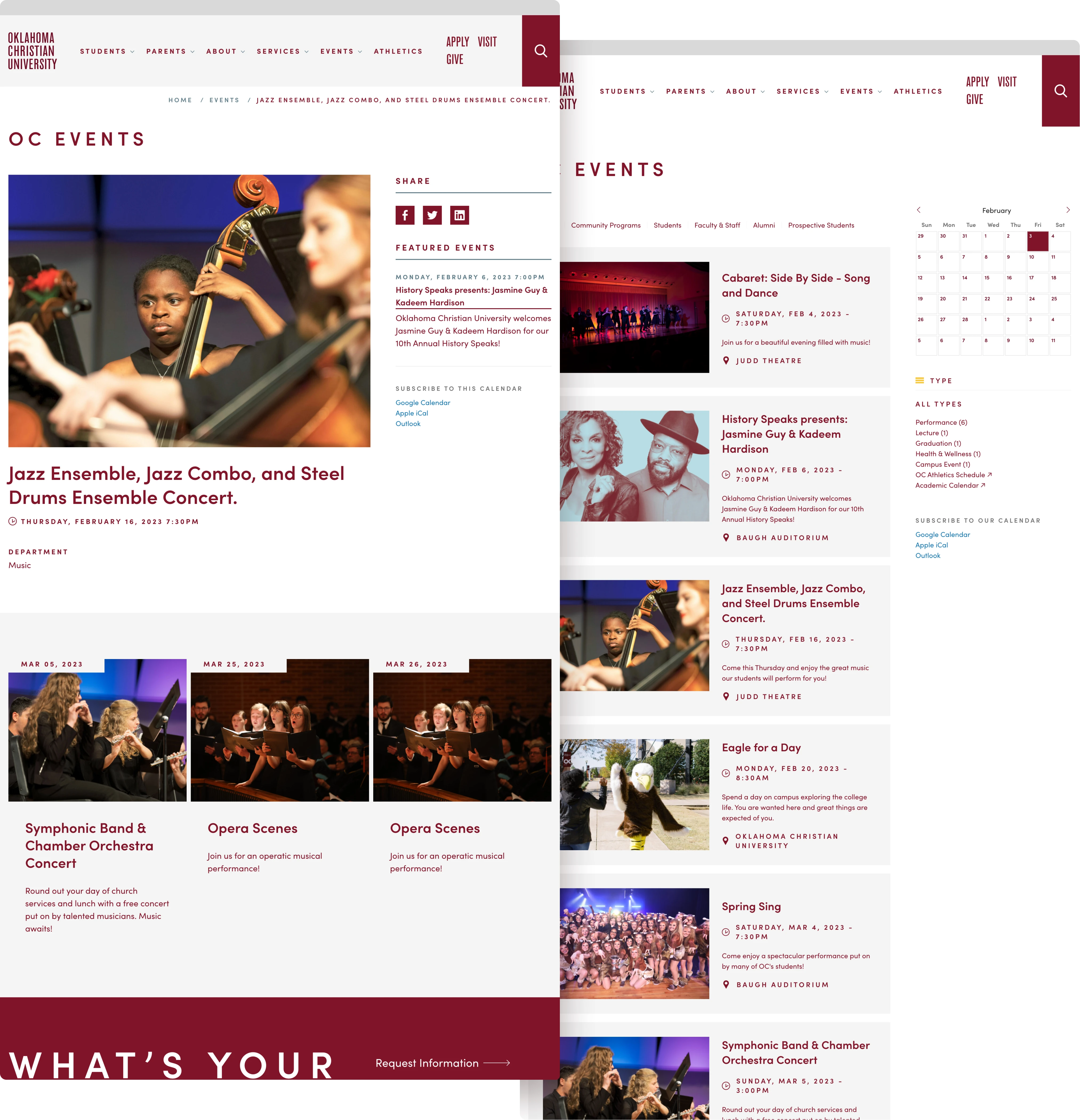 Our approach
The new approach required meticulous planning since much of the content was interconnected throughout the website. We then scheduled two developers - one in the US and one in the UK - to work concurrently on the project, allowing nearly 24 hours of development time per day to help shorten the total duration of the project.
Before launching, we also had to create a phased approach to the quality assurance process, assigning one developer to focus on QA, while another implemented the development changes. In the end, each phase launched seamlessly as planned, and the entire website was live only a few weeks after the original deadline due to careful planning, teamwork, and a great communication plan with the client.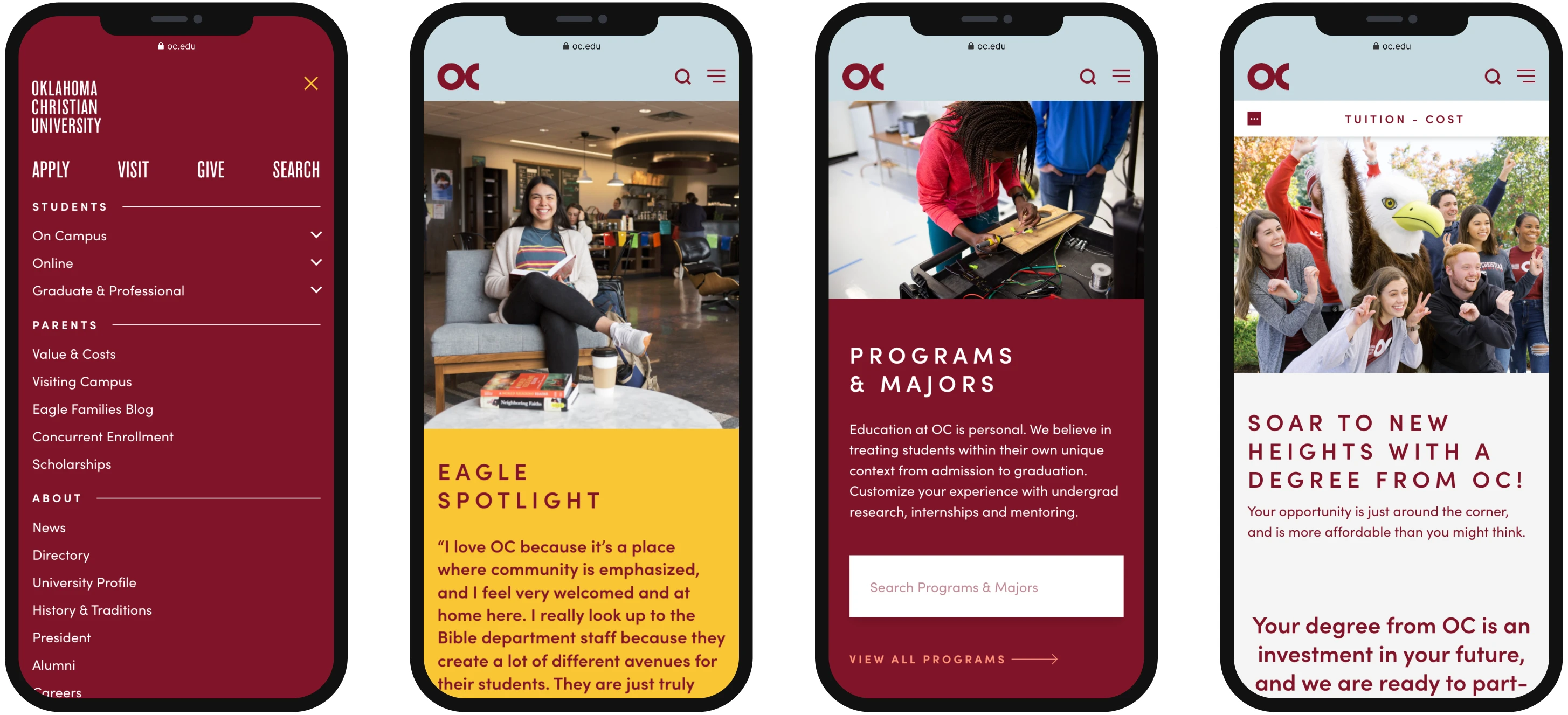 With a variety of unique content and functionality requirements, we utilized a development approach that both allowed us to complete the required work, and also develop tools for OC's content management team to allow easier long-term management of the website. Due to the ever-expanding nature of university websites, we implemented strategic parameters within the CMS to ensure the overall brand and feel of the website never loses its focus.
Partnering with Good Work on this site was a no-brainer. Their team was able to offer strategic counsel during the early phases of UX and design-build, which made the development process seamless. Their thorough communication about functionality, CMS expectations, and timeline made the client feel confident during the development process. We phased the launch of this project into three sections, and the team delivered each phase ahead of schedule and perfectly executed.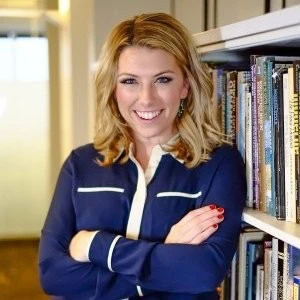 Chelsi Troop
Project Manager, Switch
Project highlights
Developed complex content models to appropriately handle content requirements, while allowing content managers flexibility when creating 'structured' pages (e.g. Undergraduate Programs) versus 'unstructured pages' (e.g. Student Life)
Created a matrix builder within the CMS that houses blocks for each design component, giving content managers the ability to generate new pages that adhere to the design and functionality standards already in place, but still look and feel unique
Implemented filtering and search capabilities in three main areas of the website (Degrees, Events, Faculty Directory), allowing website users the ability to quickly find the information needed
Adhered to strict accessibility requirements, working in conjunction with our design partner from the start to ensure the end product met WCAG 2.0 level AA standards